Very excited to announce that Escape from Oz is now live! Just in time for Mother's Day, this heartwarming tale of a convicted murderer … hmm. So maybe not the perfect gift for your Mom, unless she's a huge sci fi fan. But once you've taken care of Mom, maybe get yourself a little something, too.
In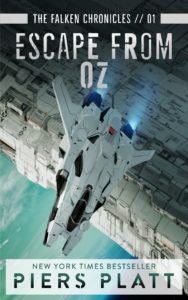 the distant future, Earth's worst criminals have all disappeared … and no one knows where they've been sent.
Sirio Falken has been a fighter his whole life. But when the government bans professional fighting, his life spirals out of control. Convicted of murder, he's sentenced to life in prison. But all of the felons he's ever known have disappeared from Earth, never to return. He's about to find out firsthand what happened to them. He'll have to stay alive amongst Earth's most ruthless felons if he wants to survive … and become the first man to escape from Oz.
It's on sale at Amazon for just 99c for a limited time – so go grab your copy quick! If you'd like to read it but Kindle isn't your preferred ereader, you can still read it! Just head over here for instructions. Thanks for reading!