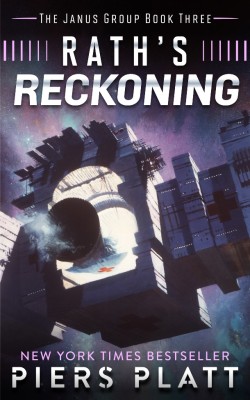 Rath and Paisen completed all fifty kills in their contracts with the Janus Group. But when they uncovered the criminal organization's darkest secret, the Janus Group unleashed an army of assassins to silence the rogue pair. With help from a former Interstellar Police detective, Rath and Paisen survive - barely. Their plan to attack the Janus Group head-on may be suicide, but in the end, they'll tear the organization to the ground … or die trying.
About the Book
Selected Amazon reviews:
"The Rath series just keeps getting better."
"Extremely satisfying … my favorite entry in the series thus far."
"It just didn't seem possible, but then it was perfection."
"As a concluding part to a trilogy, brilliant. Five stars."
"Non-stop thinking and evolving action … this series will become a classic. "
"Pick it up, you wont put it down!"
"I hate that it's over! It's like losing an old friend."
"The final showdown with the Guild was epic."
"I haven't spoken to my family in three days, because I was reading this awesome series nonstop."
Other Books in "The Janus Group"
Disclosure of Material Connection: Some of the links in the page above are "affiliate links." This means if you click on the link and purchase the item, I will receive an affiliate commission. I am disclosing this in accordance with the Federal Trade Commission's
16 CFR, Part 255
: "Guides Concerning the Use of Endorsements and Testimonials in Advertising."