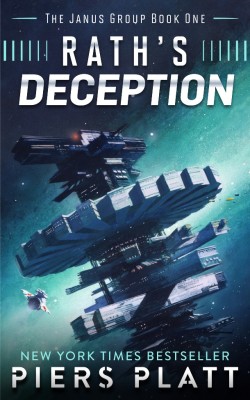 On the cut-throat streets of Tarkis, orphaned teens like Rath end up in jail...or dead. So when the shadowy Janus Group offers him a chance to earn riches beyond his wildest dreams, Rath seizes it. But the Janus Group is as ruthless as the elite assassins it controls. He'll have to survive their grueling, off-world training, and then fulfill all fifty kills in his contract to earn a single cent of that wealth. And ending so many lives comes with a price Rath can't anticipate. It will certainly cost him his innocence. It may cost him his life.
About the Book
Click here to read an exclusive excerpt!
Reviews:
"Platt delivers an intrigue-filled romp … and infuses it with sharp wit and an eye for all the gritty details. Platt's world is inventive, with a strong protagonist that readers will undoubtedly root for."
-Publisher's Weekly
"Character driven cyberpunk with assassins, conspiracies, insidious corporations, genetic engineering and murder. A page turner."
-SciFi365.net
Selected Amazon reviews:
"This book grabbed me and wouldn't let me go. A true must read!"
"Bladerunner + Bourne Identity. Very gritty but oh so good!"
"Fast paced, well written and had a great story-line. I literally had to force myself to put it down, and couldn't wait to escape back into it the next evening."
"Great multidimensional characters and lots and lots of exciting situations."
"This is the first book I have read by Mr. Platt and was not expecting that much from the book. Needless to say, I was very wrong."
Other Books in "The Janus Group"
Disclosure of Material Connection: Some of the links in the page above are "affiliate links." This means if you click on the link and purchase the item, I will receive an affiliate commission. I am disclosing this in accordance with the Federal Trade Commission's
16 CFR, Part 255
: "Guides Concerning the Use of Endorsements and Testimonials in Advertising."