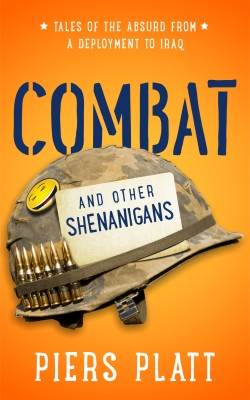 NEW YORK TIMES BESTSELLER War is hell…but sometimes it's also funny as hell. Combat and Other Shenanigans is Lieutenant Piers Platt's firsthand account of his year as a cavalry platoon leader in Iraq. Wry, action-packed, and poignant, Combat and Other Shenanigans is the absurd-but-true story of the antics the world's finest soldiers get up to when no one high-ranking is watching.
About the Book
You can click here to read an excerpt…or get the whole book for free,  by signing up for my mailing list, here.
Selected Amazon Reviews:
"I'm a bit of a military buff and I generally enjoy reading this type of work but this was VERY well done."
"Brings back memories of my service in the 1960's…a good read."
"A page-turning account…excellent insight into a new warfare and a tenacious enemy. Worth the time."
"Excellent book in all respects, highest recommendation. Platt's good."
"Hilarious and thought-provoking…pick it up, you won't be disappointed."
"My father, my husband, and our oldest son all served in the Army…the stories they tell are a lot like these."
"A good, realistic look at the war from a humorous perspective."
"Every military veteran will find themselves nodding their head and then laughing."
"I could not put this one down."
"I literally did laugh out loud."
Disclosure of Material Connection: Some of the links in the page above are "affiliate links." This means if you click on the link and purchase the item, I will receive an affiliate commission. I am disclosing this in accordance with the Federal Trade Commission's
16 CFR, Part 255
: "Guides Concerning the Use of Endorsements and Testimonials in Advertising."