Super excited to reveal the cover for Rath's Deception – Book 1 in the Janus Group series. Coming next month!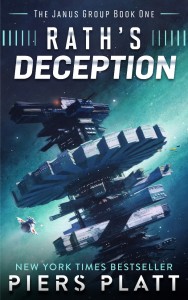 (click for bigger)  Many thanks to my cover designer, James, who did a fantastic job on the typography and design elements. The artwork is courtesy of the legendary John Harris, and if the style looks familiar, that's because his art has graced the covers of  Ender's Game, several of John Scalzi's books, and Ann Leckie's Imperial Radch series.  I'm still somewhat amazed I was able to secure the rights…feel like one of those guys that found a Picasso in his attic.  And wait until you see Book 2 and 3… 🙂
Rath's Deception
On the cut-throat streets of Tarkis, orphaned teens like Rath end up jailed … or dead. So when the shadowy Janus Group offers Rath a chance to earn riches beyond his wildest dreams, he seizes it. But the Janus Group is as ruthless as the elite assassins it controls. Rath will have to survive their grueling, off-world training, and fulfill all fifty kills in his contract before a single cent comes his way. And ending so many lives comes with a price Rath can't anticipate. It'll certainly cost him what's left of his innocence. It may well cost him his life.